Seki, die Hauptstadt der japanischen Schneidwaren-Industrie befindet sich im Zentrum des japanischen Archipels.
Die Geschichte der japanischen Schneidwarenindustrie in Seki begann vor knapp 800 Jahren. Die ersten Schwertschmieden gab es in Seki bereits im Jahre 1200. Seki war ein idealer Standort für die Schwertschmieden. Vor Ort gab es alles, was zum Schmieden eines Schwertes nötig war, das nötige Erz, ausreichend gutes Holz und frisches, sauberes Wasser von zwei großen Flüssen.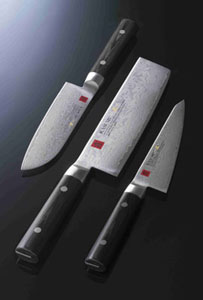 Diese Methode des Schwertschmiedens war zu dieser Zeit einzigartig in Japan. Schwerter aus Seki sind sehr hochwertig, zeichneten sich stets durch eine sehr gute Qualität aus.

In der Zeit zwischen 1300 und 1500 wuchs die Anzahl der Schwertschmieden bereits auf über 300. Schwerter aus Seki waren sehr angesehen und in ganz Japan bekannt als robuste und extrem scharfe Waffen. Seki entwickelte sich zum bedeutendsten Ort der Schwertschmiedekunst in Japan.

Die traditionelle japanische Technik der Schwertherstellung wurde von Generation zu Generation bis zum heutigen Tage weitergegeben. Diese Techniken werden bis heute bei der Herstellung der Kasumi Messer angewendet.

Kasumi Messer sind die Spezialität aus Seki. Sumikama Cutlery, der innovative japanische Traditionshersteller, ist mit seinen Kasumi Messern der "Erfinder" der Damaszener Küchenmesser-Serien. Oft kopiert, nie erreicht. KASUMI MASTERPIECE (MP) Kochmesser sind das Ergebnis der konsequenten Verbesserung der Kasumi Messer.

Feature:
KASUMI MASTERPIECE (MP) sind eine spezielle, limitierte Ausführung der Kasumi Messer. Sie sind das Ergebnis konsequenter Weiterentwicklung, Verbesserung sowie jahrzehntelanger Erfahrung der Firma Sumikama in der Messerschmiedekunst.
Kasumi MP sind die besten Kasumi Messer, die es je gab.

Das japanische Zeichen ist das Zeichen der MASTERPIECE Messer. In seiner eigentlichen Übersetzung bedeutet es so viel wie "meisterliche Handarbeit" (Takumi).
KASUMI MP Messer erlangen Ihre außergewöhnlichen Eigenschaften durch die unbezahlbaren Erfahrungen der besten Meister und ihrer Handarbeit, in Verbindung mit der Nutzung moderner Technik - ganz in der Tradition der japanischen Schwertschmiedekunst.

Die Mittellage der KASUMI MP Klingen besteht aus bestem japanischen "VG10 Cobalt high carbon Stahl", der ausschließlich für die Fertigung von sehr hochwertigen Küchenmessern entwickelt wurde. Nach dem Schmieden werden die Klingen erneut auf etwa 800 °C erwärmt, anschließend schnell wieder abgekühlt und so auf etwa 59-60° C Rockwell gehärtet.
Die Härte von 59-60 HRC gilt nicht nur in Japan als optimale Härte für Küchenmesser. Sie ermöglicht eine sehr lange Standzeit der Schneide (Schärfe), gleichermaßen aber auch ein leichtes Nachschärfen mit dem SUMIKAMA Schleifstein.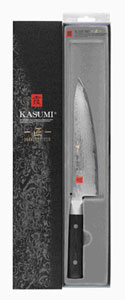 Die perfekte, scharf-blitzende Schneide ist das Produkt vielfacher Schleifvorgänge auf rotierenden Spezial-Wasserschleifsteinen. Nur die besten Schleifer aus Seki schleifen jede Klinge der KASUMI MP in unzähligen Arbeitsschritten per Hand. Ihre finale Schärfe erhalten die Messer durch den letzten Schleifvorgang mit einem feinen 3000er Kasumi Wasserschleifstein.
Das KASUMI MP Damastmuster auf beiden Seiten der Klinge, entsteht durch wiederholtes Falten und Schmieden des hochwertigen Stahls in mehreren Lagen.

Der Profi-Griff der KASUMI MP Küchenmesser ist aus einem duroplastischen Leinen-Hartharz gefertigt. Durch Druck und Wärme erhält dieses Harz seine besondere Haltbarkeit und damit seine gute Formbeständigkeit. Das Messer liegt angenehm und sicher in der Hand.

Die Schönheit der Klinge, zusammen mit dem matt glänzenden Griff – macht dieses Messer so einzigartig.
KASUMI MP sind wunderschön und extrem scharf , sie sind perfekt für jede Art der Zubereitung in der feinen Küche.
Unfortunately there are no review yet. Be the first who rate this product.