Scissors & Nippers
Hairdressing tools
Scissors
Manicure & pedicure instruments
Hairdressing tools

In many cases, hair scissors are micro-serrated and are ground using a special grinding wheel. The serration should be angled from the point of the scissors to the joint, so that even fine hair can be held firmly.
So-called "razor cuts" are made by aligning the cutting edges at a flat angle of max. 40° and subsequently fine-grinding and polishing them. This ensures that the hair is not pushed forwards, but can be gripped with minimum effort and cut more easily and cleanly.
Professional hair scissors are hand-ground and honed.
The hollow grinding is carried out in a radius of 60/80 mm. The honing must be carried out very carefully and over several degrees of fineness, using an abrasive wheel coated with diamond dust. This ensures that the scissors can be moved easily and smoothly.
Adjustable screw systems allow the user to set the scissors to meet his individual requirements, i.e. to determine the load pressure on the blades.

Finger hooks, which can be screw hooks (1) or forged hooks (2) are preferred by export customers in America or Asia. The hook ensures that the scissors are balanced more easily between the index and little fingers, which means that they can be guided more easily.



| | |
| --- | --- |
| (1) | (2) |
Thinning scissors
These are available with 21, 23, 40, 42 or 46 teeth on one side (shaping scissors) or on both. Double-sided thinning scissors with 21 or 23 teeth are preferred by private customers and are particularly suitable for cutting the top hair close to the head. Shaping scissors with 40, 42 or 46 teeth are used by hairdressers to make an exact, clean, layered cut at the ends of the hair. Good-quality thinning scissors can be recognised by the fine, exact equal angle cutting of the individual teeth, the equal distance between each tooth and the even action, i.e. not too strongly curved and with a good support behind the screw.

Board, nose and ear scissors
This group of scissors is less well-known but are part of the cutting tools important for body care.
All hair scissors of up to 4½" (12 cm) can be described as beard clippers. Micro-serration is absolutely necessary for these scissors, so that the beard hair cannot slip from the blade. Nose and ear clippers are small, handy, ball-pointed scissors for the removal of irritating hairs in the nose and ears. Please note that sharp scissors should never be used in these areas, as the sensitive skin can easily be injured.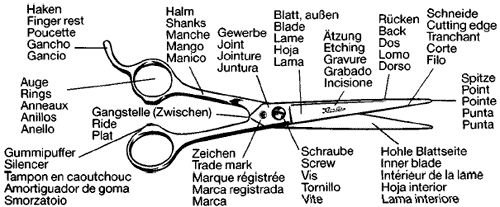 ---

Scissors for household, professional and leisure purpose

Here are the most important types of scissors from the wide range available:

Household scissors
Household scissors a wide range is available, forged, non-corrosive (in a few cases made of nickelised C-steel). They can be divided into so-called sewing or unpicking scissors and fabric shears. Narrow blades and fine points mean these scissors can be used for unpicking seams, cutting thread and for fine needlework. The medium-sized models (predominantly convex), are also suitable for general cutting purposes (foil, cord, cardboard etc.). The heavy fabric shears (long-eye handles) are suitable for the exact cutting of normal textiles, if no tailors shears are necessary.

Tailors shears
Tailors shears are used especially for heavy fabrics, card etc. Appropriate attention is paid to the size (up to 12" in length), weight and strength of the blades. Carbon steels ranging from C60 up to crucible steel are used to guarantee that the shears are hard enough. Blades with fine teeth are an optional feature which guarantee that the fabric does not slip, but these are not to be confused with the zigzag blades of pinking shears, which are used to finish off the edges of seams.

Poultry shears
Poultry shears are available in sizes from 24 to 26 cm with a roller spring or an annular spring on the inside. As well as paying attention to the angle of opening (not every pair of shears is suitable for every hand), it must be possible to take the shears apart for cleaning. For hygienic reasons, non-corrosive poultry shears are the best.

Embroidery and silhouette scissors
Embroidery and silhouette scissors are extremely fine and sharp. For this reason, they should be treated very carefully and kept in a leather pouch.

Left-handed scissors
Left-handed scissors sind Sonderausführungen mit komplett spiegelverkehrter Anordnung von Blättern und Griffen und werden zunehmend von Kindergärten, Schulen und auch Haushalten nachgefragt. Unterschiede der Grifformen verkehrter Halm polscher Halm Knietrümmer mit geraden Griffaugen mit schrägen Griffaugen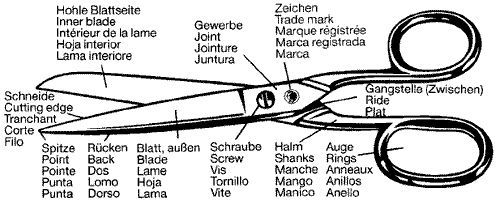 ---

Manicure & pedicure instruments

Good sales advice is essential for these types of scissors: on the one hand, because nothing is more annoying than bad or even painful results when using scissors for skin and nail care; on the other, because of the relatively high price of good-quality cutting tools. This is because from the blank to the finished product, these scissors are put through more than 120 processes, most of which are carried out manually.

Skin Scissors
Good skin scissors have to be particularly sharp (for cutting through the finest pieces of skin), sufficiently pointed (to reach and lift the tiniest particles of skin) and sufficiently curved (so that they point away from the cuticle and do not dig into it). It is important that the scissors are easy to open and close, despite their curved shape. When closed, the points of the scissors should lie exactly on top of each other. The fine tips of the slender-point blades are particularly sensitive. These scissors should be kept in a protective pouch. Skin scissors should never be used for cutting nails or other materials!

Nail scissors
The structure of nail scissors is much more stable than that of skin scissors, which is necessary for them to be able to meet the demands placed on them. Nail scissors also have to be curved in order to follow the shape of the nail. It is also an advantage if the scissors are micro-serrated, especially if they are a heavier model, because the nail is then not distorted and the cut can be controlled better. Stable toe-nail scissors can make toe-nail care easier if the user does not want to use pliers.

Cuticle nippers
There are two types of cuticle nippers: eye nippers (with a scissor grip) and handle nippers with a leaf spring. Because of the relatively small load-bearing area, cuticle nippers should be box-jointed. However, the most important difference is in the cutting lengths:

1/8 cut (ca. 3 mm),
¼ cut (ca. 5 mm),
½ cut (ca. 7 mm) and
1/1 cut (9 mm)

(1)

(2)

Nail nippers
Here it is possible to distinguish between manicure nippers, pedicure nippers, headcutters and a wide range of edge nippers.
In the case of manicure or pedicure nippers, the blade design can be flat, hollow (with a concave dome) or "high-nosed", where the end of the cutting edge is clearly raised. The blades of pedicure nippers are generally hollow, sometimes also high-nosed and flat. As toe-nails should be cut straight across, the cutting edges normally dictate the slightly curved cutting angle.
Because of their narrow and precise blades, edge nippers are normally used by experienced chiropodists for clipping the edges of nails in places where they cannot easily be reached. The types of blades used are simple, sharp or sharp/sharp (sharp and relief-ground).
In contrast to the other types of nail nippers, the blades of headcutters first close at the points and then up to the middle when pressure is exerted. These nippers are not used at a 90° angle, but directly "head on".
Production

From a cropped piece of steel to the finished quality product, a pair of pliers is manufactured in ca. 90 to 120 largely manual stages, the number of which varies depending on the design. Before being hardened, the pliers are milled, assembled, riveted, profile milled and the outer contours are milled and filed. Afterwards, they are only hardened from the cutting edge to the joint. The handles are not hardened before being levelled. Depending on the material used, the hardness after tempering is around 48 HRC for C45 steel and about 52-54 HRC for non-corrosive 4021. Afterwards, all surfaces are ground, buffed and polished. The cutting edges are then seal filed (see picture on the right), i.e. depending on the type of pliers, it must be possible to close the pliers from the point to the joint by exerting light or moderate pressure. Once they have been closed, there should be no light visible between the cutting edges. At the back, the cutting edges must be freely ground or filed in such a way that nail and skin debris does not adhere to them.
Pliers made of normal steel are then galvanised, normally with burnished nickel, sometimes also with chromium. Afterwards, the cutting edges are sharpened using fine files. The crests of the blades are filed at the same time so that the blades meet each other precisely. The cut of each pair of pliers is checked individually: in the case of nail clippers, the entire cutting edge should make a clean cut through cardboard of postcard thickness and let the card fall away. Fine cuticle clippers are tested on tissue paper. After mounting the screw, leaf or double spring, the trademark is added to the pliers by laser, stamping or etching. The pliers are then burnished and carefully cleaned.
Box-jointed or lap-jointed


| | |
| --- | --- |
| Both types of joint are used for nail and cuticle clippers. The lap joint, in which the two halves of the pliers are placed over each other and connected with a rivet (with a decorated recess) is considered to be sufficient for the simpler quality products, the so-called standard clippers and the clippers provided with manicure sets. However, the rivets of lap-jointed pliers constitute a weak point, because in time the pliers become loose and the two blades no longer lie exactly on top of each other. | |
| Box-jointed pliers are better suited to more stringent demands, although more craftmanship is needed in their production. First of all, a slot has to be cut in the outside box blade, and then the between blade which lies on the inside has to be milled flat on both sides. Afterwards, the box blade is heated so that the between blade can be inserted during the annealing stage. Immediately afterwards, a hammer is used to bring the box blade back to its original shape. The blades are then drilled and riveted. Because of their significantly higher torsion resistance, box joints are recommended for professional models and for fine cuticle clippers. | |